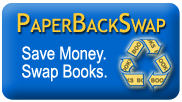 I love Paperback Swap!!!!!!!!!! Have you heard of this book-swapping website? I have been a member to this site for almost a year, and I have recieved 120 books!!! Er, don't tell my husband, though :) The best part about this website is that it's really, truly FREE.
All you have to do is sign up and post 10 books, and you get a FREE credit to order a book. Whenever someone requests one of the books that you have posted you simply mail it to them, and when they recieve it you get a credit to order another book. The sender always pays the postage. Almost all of the books can go Media Mail, and the average cost to ship one book is around $2.30 or so, but more if the book is heavier.
One of the great parts about PBS (as it's called by members) is the *wish*list* function. You can have up to 200 books on your wish list, and whenever someone posts a book on your wish list you get an email telling you to log in and claim it. Or, you can set it up as an "auto-request" and it will be immediately sent to you, as long as you have a credit in your account.
There is also a *reminder*list* that I
think
is unlimited -- I have over 200 books on it, and I can still add more. I kind of use it as a secondary wish list, I just have to remember to check it to see if any of the books I want have been added to the system.
I bet you are wondering why I am sharing this website with you, right? You are saying "Sounds good, but what's the catch?" My reason for telling you about it is so there are MORE books posted into the system! For every person that joins and posts books, there's more of a chance one of my wish list books will pop up! So join! Please! And post cool books :)